Newsletters Archived
Wednesday 16th November 2016
Fr Martin Murnaghan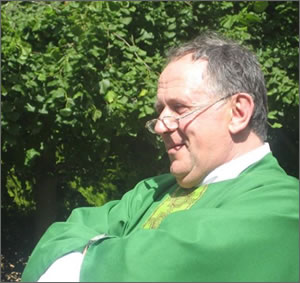 It greatly saddens me to inform you of the sudden passing of Fr. Martin Murnaghan in Kenya last Sunday. Fr. Martin was manager of St Patrick's NS when it opened in 2001 and Parish Priest of Porterstown Parish until 2006. He guided us through the early years of the school and was central to the creation of the warm and welcoming ethos of St Patrick's NS. RIP
Temple Street Children's Hospital Collection
"On Friday 28th October, St Patrick's held a fundraiser for Temple Street Children's Hospital where all the children and teachers dressed in costume for Hallowe'en. They also performed the Monster Mash to help with earning our Active Flag. We are happy to announce that we raised €1,377.32 for Temple Street.
By Luke Mc Clean & Katie Mc Keon 6th Class, Ms Parker".
Parent/Teacher Meetings
Parent/Teacher meetings will take place on Tuesday November 22 and Thursday November 24. The timetables have been organised so that parents who have to attend more than one meeting have been offered all their appointments on either Tuesday or Thursday. You will understand, therefore, that it is not possible for the school to facilitate requests for a change of day and/or time because of the effect this would have on other class timetables. Appointment times will be distributed by the end of the week. Please see school Journals for children from 1st to 6th. Times for infants will be send home on a note.
Please do not swap times with another parent or family, as this has an impact on other classes.
To ensure the smooth running of the Parent Teacher Meetings, we would greatly appreciate your cooperation regarding the following:
Each meeting is of ten minutes duration. The school bell will ring to advise you that your ten minute session is over. Please do not remain for longer as this disrupts the schedule for everybody.
If the previous meeting is still in session at your appointed time, please knock on the door to signal your arrival.
Science Fair
The 5th classes have been working hard on their Science projects. Their work will be on display on Thursday 17th November. Parents of the 5th classes are welcome to come in to see their projects in action between 1:30pm and 2:00pm. The children will need to clean up the hall from 2pm sharp as the hall is needed for extracurricular activities. We thank you in advance for your co-operation and understanding in this.
Food Dudes Healthy Eating Programme
We are pleased to welcome back The Food Dudes Programme to our school, starting from 22 November. Pupils will be encouraged to eat a small portion of fruit and vegetables that will be delivered to the classroom on a daily basis. We previously hosted The Food Dudes Programme, sponsored by the Department of Agriculture in 2012. It was very well received by the children and parents and there were some great prizes too. See www.fooddudes.ie for further information.
Dates for Junior Infant Christmas Concerts
Thursday 15 December 11.00am SHARP - Ms Nolan
Friday 16 December 11.00am SHARP - Ms Rothwell
Monday 19 December 11.00am SHARP - Mr Thomas
More information to follow.
Celtic Travelling Book Fair
The Book Fair will be in the school from Wednesday 16 November to Monday 21 November. Feel free to call in at dropping off (08.30am-9.10am) and collection times (1.00pm – 2.30pm) to browse through the selection available. This is a great opportunity to get started on your Christmas shopping! The more books you buy, the more books the school will receive to help restock the school library. Leaflets will be distributed to all children.
From previous years' experience, may we please ask that you Enter only via the Main Entrance and Exit only via the Blanchardstown Door? This will ensure a smooth flow of people through the Book Fair area which is quite tight.
Upcoming Events
17 November – Science Fair (see above)
22 & 24 November – Parent Teacher Meetings
27 November – Christmas Fair
29 November – Confirmation Enrolment 7pm
15 December 11.00am - Ms Nolan
16 December 11.00am - Ms Rothwell
19 December 11.00am - Mr Thomas
23 December – 06 January 2017 inclusive – Christmas Break
16 January – Communion Parent Meeting 8pm
10 & 12 January 2017 – First Faith Friends Session
13 February – First Penance & Reconciliation 7pm
20-24 February inclusive – Mid Term Break
07 March – Confirmation Retreat (during school hours)
07 March – Confirmation Service of Light 7pm
27 March – Communion Parents Meeting
Upcoming Sporting Events & News
14 February 2017 – Cross Country – venue Porterstown
14 March 2017 – Cross Country – venue Porterstown
04 April – Cross Country – venue Morton Stadium, Santry
Parents Association News
National Parents Council Primary - Special Education Conference
National Parents Council Primary are holding their Special Education Conference
for Parents of Children with special educational needs on Saturday the 12th of November 2016
in the Ashling Hotel, Dublin (near Heuston Station), from 10.30AM to 4PM. All parents who are
interested are welcome to attend (members and non-members). Admission is Free. Please
see the attached invitation for further information. To book a place at this conference please copy
and paste the following link: http://npc.ie/register_special_education_conference_2016.aspx
Information Session for Parents on Internet Safety
Open to all parents of Primary School children – Admission FREE
Date: 22nd November, 2016 (Tuesday) Time: 7.30 PM (for 8 PM) – 9.30 PM
Venue: Ashling Hotel, Parkgate St, D15 (near entrance to Phoenix Park)
Objective: To provide parents with information and skills, so that they'll be able to engage in their children's online lives.
Areas covered:
How children use the Internet
Strategies for parents to help their children be responsible, effective and safer users
Potential online dangers
Cyber Bullying
* There's a short County Branch Meeting and elections to the NPC Assembly, prior to meeting – so I imagine Internet Safety talk will begin closer to 8PM. See you there! SPNS NPC Rep.
Christmas Art Competition
The theme of this year's competition is "Christmas Time". The closing date is WEDNESDAY 16 NOVEMBER. Categories are 4-6yrs; 7-9 yrs and 10-13yrs.
Please include your name, age, class teacher and telephone number on the back of your picture. No bigger than one A4 page.
School Calendar
The Parents Association are taking orders for the 2017 School Calendar this week. Each calendar features a photo of your childs/childrens class and cost €5 each. Please complete the order form and return it directly to your child's class teacher, along with a cheque/cash (exact amount), by Thursday 17th November. As we have extended the date of return to Thursday 17th, orders received after this date cannot be accepted. Hard copies of the order form have been given to children today.
Christmas Fair News
Donations for the Christmas Fair

It's that time of year again and donations are required for the St Patricks Annual Christmas Fair which takes place on Sunday the 27th of November. Maybe you would like to donate a prize, a box of sweets,
toys, bottles.....all gratefully accepted.

We would love unwanted and/or new gifts, books, games, DVDs, PC / Wii / Xbox games and of course, bottles (for the ever popular Bottle Stall). Please remember that all items should be in saleable
condition. We also need toys – new or second-hand, but complete, clean and in working order, suitable for children aged 4 years and above, especially Games, Jigsaws (all complete) Costumes and Character
Toys –most welcome!

How to Donate
Its soooo easy – morning and evening slots are available to drop off your donations. If you are a 'morning' person, we plan to have volunteers at the main gate and the pedestrian gate on those 'Drop – off Days' to make the drop off as swift and handy for you.
Alternatively, drive to the School on one of the designated evenings - we'll be delighted to see you then.
Evenings
7.30 – 8:30 PM @ Back of school hall Thursday 17 Nov, Tuesday 22 Nov and Thursday 24 Nov.
Mornings
8:20AM -8:40 AM Thursday 10 Nov, Thursday 17 Nov, Tuesday 22 Nov, Thursday 24 Nov. (Volunteers will be at main school gate and the pedestrian gate so you can just bring items with you and drop off quickly)
Any queries contact Oonagh on 086-3231722
Christmas Fair 2016
You or your company are wanted! Would you/they be interested in donating or sponsoring a prize for our Christmas Fair?
The Parents Association is organising a Christmas Fair and in order to keep costs down, we are asking the school community for prizes that could be raffled on the day.
No donation too big or small!
Big shout out to all volunteers for this year's Christmas Fair!
St. Patricks Annual Christmas Fair is on Sunday 27th of November from 1:00-5:00pm. We need to get as many volunteers as possible to make this event the success it has become over the years. If you are free on the 26th or 27th of November to give a few hours to a great cause, please text Oonagh at 086-3231722 with your details and availability.
Reminders
Reminder re dismounting Bicycles/Scooters & Rollerblades
In the interest of everyone's safety, all cyclists (adults, students and siblings) should dismount from their bicycles/scooters at the gates to the school grounds as cycling is not permitted on school grounds. Please also note that scooters and rollerbladesare not permitted on school grounds. We would greatly appreciate your support in this matter.
Extra-Curricular Activities
Art and Crafts classes
A new 10 week term will commence on Monday 28th November for Monday class and on Friday 2nd December for the Friday class. The classes will be at the usual time from 2.10pm to 3.45 pm. There will be 3 classes before Christmas and the remaining 7 classes in the New Year.
For further details please contact Blathnaid on (087) 4123247.
Diswellstown Community & Recreation Centre and Local Community Activities
Bethany Bereavement Support Group November Talk - St Mochta's Parish
Three members of our community will share their experience of coping with the loss of a child (unborn, infant and adult child). It will take place on Thursday 17th November at 8pm in St Mochta's Pastoral Centre, Porterstown (behind the church). Everyone welcome - no charge. For more details contact: +353862479216
Castleknock GAA Juvenile Awards
Castleknock GAA Juvenile Awards take place on Thursday 17 NOVEMBER. Doors open at 6.15pm for CHFC Juvenile Awards (U8-U11s @ 6.30 & U12-U16s @ 7.45) in Westmanstown Conference Centre.
Parents Plus Programme (0-6 years)
The Parent Plus Early Years Programme is a seven week course for parents of pre-schoolers and young children. The next course takes place from Thursday 03 November – 15 December, 7.00pm to 9.30pm in Fingallian's GAA Club, Swords County Dublin. Places are limited on this course and will be allocated on a first come first served basis. Booking is essential. Contact 8077660 or email info@fingalcountychildcare.ie.
Aspergers Support Group
Free Aspergers Support Group & Youth Club. Sat 11am - 1pm. Castleknock Community Centre. 0868204663